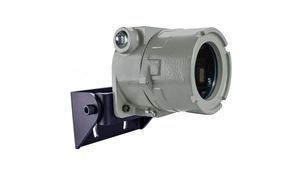 BEA's Phoenix EX combines a microwave activation sensor in an explosion-proof / flame-proof housing, which is ideal for use in unique environments such as chemical manufacturing, petroleum refining and military facilities. The Phoenix EX is designed to detect within a desired area for security, warning indication and automation. When tied into a security system, the Phoenix EX offers a monitoring feature via the end-of-line resistors. These resistors provide unique output states, which allow differentiation between an activation signal and an interruption in functionality due to tampering of the device. Note you must complete the pdf form below to provide us details on what resistor configuration you prefer. The explosion-proof / flame-proof housing is a NEMA 4X, water-proof rated enclosure designed as an IP66 housing. This housing achieves UL Class I, Div. 1, Groups B, C, D; Class II, Div. 1 & 2, Groups E, F, G; and Class III***.
***Adalet / Scott Fetzer Co., UL Listing #E81696
Bidirectional, unidirectional approach and unidirectional depart microwave detection options
Integrated tamper alert switch and end-of-line resistors
11-pound, explosion-proof / flame-proof housing
Tilt adjustment angle: -90° to +30° in elevation
Phoenix EX models available for lower mounting applications 7' to 11.5 and extended width pattern.
Including Explosion Proof Housing:
Retail Price - $2699   DoorSensors.com Price - $2086
Optional Phoenix Programming
Remote Control Available