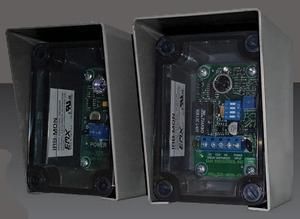 The IRB-MON is a monitored, weather-proof, thru-beam infrared photoeye solution providing entrapment protection for doors, gates and barriers. The IRB-MON Safety Photo Beam is UL325-2016 compliant and housed in a rugged NEMA 4X enclosure suitable for indoor and outdoor use.
The universal design of the IRB-MON allows it to be used with a wide variety of monitored operators. Additionally, it is compatible with most non-monitored legacy products.
The IRB-MON has 4 monitoring interfaces:
Normally closed
• Two-wire pulsed (2 freq)
• Two-wire pulsed (3 freq)
• 10k resistive termination
The IRB-MON addresses a wide variety of external entrapment protection needs due to its long range, thru beam detection technology and selectable frequency feature.
Benefits include:
Easy installation and set-up.
Robust: suitable for high-reliability entrapment protection applications.
Lens-less design minimizes fogging and false triggering and provides easy alignment.
Long operating range.
Features
Type B1, non-contact sensor
UL325-2016 compliant
Lens-less design
Simple 2-wire connection
Relay contacts available
NEMA 4X enclosure
Selectable frequency modes
Operating Range: up to 115 ft. (35m)
Detection Angle: 24°
Sensitivity adjustment: potentiometer
Retail Price - $470    DoorSensors.com Price - $278
HOT OFFER!
Order 4 or More at $252 each
Protective Hood $68 Set