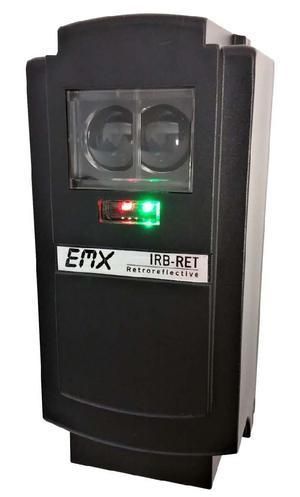 The IRB-RET is a monitored, weather-proof retroreflective photoeye solution providing entrapment protection for automatic gates and doors. Retroreflective configuration eliminates the need for a separate transmitter and the associated wiring across a roadway to reduce installation costs. The IRB-RET is UL 325-2016 compliant and housed in a rugged NEMA 4X enclosure suitable for indoor and outdoor use.
The universal design of the IRB-RET allows it to be used with a wide variety of monitored operators. Additionally, it is compatible with most non-monitored legacy products.
The IRB-RET has 5 monitoring interfaces:
Normally closed
Two-wire pulsed (2 freq)
Two-wire pulsed (3 freq)
Four-wire pulsed
10k resistive termination
The long range and retroreflective features provide a flexible solution to all external entrapment protection needs.
Benefits include:
Selectable monitoring interface for easy set-up and installation
Compatible with many operators
Long operating range
Robust design minimizes fogging and false triggering to provide easy alignment
Mounting bracket and reflector provided
Features
Type B1, non-contact sensor
UL 325-2016 compliant
Operating range up to 60 ft. (18.3 m)
NEMA 4X enclosure
Sensitivity adjustment: potentiometer
Retail Price - $510    DoorSensors.com Price - $286
HOT OFFER!
Order 4 or More at $246 each
Steel Protective Hood for Photoeye and Plastic Protective Hood for Reflector $68 set