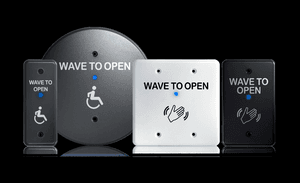 BEA's MAGIC SWITCH Family utilizes proven microwave motion technology to ensure consistent, dependable touchless activation and can be adjusted to comply with the ANSI 156.10 knowing act standard.
The MS31 detects moving objects such as a hand, cart or wheelchair and reduces touchpoints in high traffic areas commonly found in shopping and transportation centers. Applications requiring hygienic activation include hospitals, pharmacies, clean rooms and foodservice facilities.
Retail Price - $247   DoorSensors.com Price - $197.60

Hot Offer!
Order 4 or More at $187.60 each
Subject: Change of Product Availability for MAGIC SWITCH
Due to a change in our supply chain, BEA is transitioning the availability of our MAGIC SWITCH family. The transition includes discontinuing the sale of MS11 and MS08. We understand the concern with previous orders submitted and will be able to honor open purchase orders.
The MS11 is no longer available for new orders.
The MS08 will no longer be available as of Friday, July 17, 2020.
For the past year, BEA has been evaluating feedback and working on additions to the MAGIC SWITCH family. Improvements to functionality, durability and the LED will be seen in the soon-to-launch MS31 and MS41. The MS11 will be replaced by MS41, and the MS08 will be replaced by MS31, including all warranty returns.