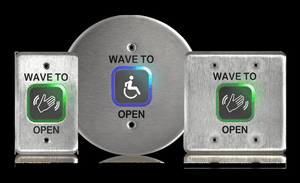 BEA's MAGIC SWITCH® Family provides a highly accessible and germ-free door activation without physical contact. Reduce touchpoints in fast-paced environments that depend on sanitation like healthcare, retail, industrial and commercial settings.
Using microwave technology, BEA's MS41 produces a detection field with a reliable and consistent transmission in interior and exterior applications. Capable of detecting a moving hand, cart or wheelchair. Plus, an adjustable hold time offers flexibility to meet ANSI standards.
The MS41 features rounded corners and a customizable illuminated ring with audible signaling. The durable design suits sterile, wash-down applications such as surgical, wash-down, clean room and pharmaceutical environments.
Retail Price - $305   DoorSensors.com Price - $199.20
HOT OFFER!
Order 4 or More at $189.20 each
Subject: Change of Product Availability for MAGIC SWITCH
Due to a change in our supply chain, BEA is transitioning the availability of our MAGIC SWITCH family. The transition includes discontinuing the sale of MS11 and MS08. We understand the concern with previous orders submitted and will be able to honor open purchase orders.
The MS11 is no longer available for new orders.
The MS08 will no longer be available as of Friday, July 17, 2020.
For the past year, BEA has been evaluating feedback and working on additions to the MAGIC SWITCH family. Improvements to functionality, durability and the LED will be seen in the soon-to-launch MS31 and MS41. The MS11 will be replaced by MS41, and the MS08 will be replaced by MS31, including all warranty returns.