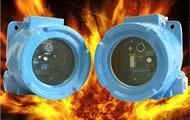 Designed for explosive environments, the rugged IRB-EXP photocell is used as a safety, reversing, or opening device in conjunction with automatic operators. The IRB-EXP will work with any control board that accepts dry contact on the input. The easy-to-install IRB-EXP is used with garage doors, rolling doors, parking barriers and other equipment located in explosive environments.
NEMA 4 and 7 housing.
NEC Class I, Groups B, C & D, Class II, Groups E, F & G CSA certified, CENELEC certified, EExd IIC.
Copper free Aluminum with Epoxy finish.
Potentiometer range adjustment to allow more precise tuning to site.
Through beam design is not affected by shiny surfaces.
Modulated infrared to reduce the effect of sunlight, fog, rain, dust and dirt.
No focusing lens.
Please allow for lead time of up to 4 weeks on this item.
Retail Price - $2150   DoorSensors.com Price - $1146