The MICRODOOR™ provides automatic, motorized operation for enhanced workflow and productivity on conveyor passageways and other locations where a smaller roll-up door is required.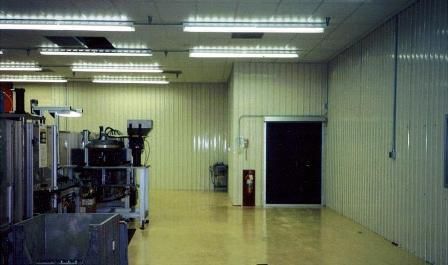 The extra tight perimeter seal minimizes thermal penetration on coolers or between other environmentally controlled locations. Remarkably narrow side and header clearance requirements for applications with a minimum of mounting space.  
The precision curtain operation and narrow profile provides reliable performance between conveyor segments. Perfect for clean room pass throughs. Also, the MICRODOOR™ is ideal for access openings into machining centers or robotic work centers and can be supplied with optional spark resistant fabric where required.
"We use the MICRODOOR where our conveyor feeds into the storage cooler. It has a tighter seal than the high speed door on the main entrance and cost less than half! We will need two more for the expansion." -- Franklin
MICRODOOR's patented Fabric Retention System™ provides additional rigidity where slight pressure exists. In addition, the simple design allows for quick installation. Contact Erich Industries for pricing on this innovative door system.