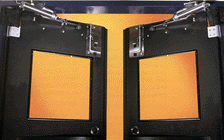 APPLICATION
The DOOR DYNAMICS® KO-600 series door operator is a surface mounted pneumatic door opener. It is used for swing doors in industrial, institutional and commercial applications. It is compatible with virtually all types of interior and exterior doors. Door panels from 2'-6" to 5'10" wide and weighing up to 600 pounds can be accommodated. One way, two way and two way bi-parting traffic patterns can be used by varying combinations of activators and orientations of actuators. Simultaneous operation of double doors is standard.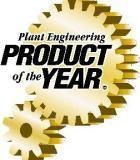 DESCRIPTION
The DOOR DYNAMICS® KO-600 series operator applies opening force to the door header by a pneumatic cylinder, actuator arm and a rubber wheel. There are only three minimally wearing bearing points for long life, there are no gears, clutches or motors required. The operator is not attached to the door so the door can be operated manually with complete means of egress at any time, without any harm to the opener mechanism. A standard pull side closer provides the closing portion of the cycle. Automatic operation is obtained through a wide number of activation devices. Because of the operator Ultra-Force™ bracket configuration and pneumatic system there is no risk of damage if the doors are activated and then struck with a load, or activated while the doors are locked or blocked in the open or closed positions.
"We installed the DOOR DYNAMICS openers back in 1982 and they still run perfect!" -- USPS Employee
OPERATION
Automatic door operation is accomplished when the open or initiate command is transmitted from the activation device to the control box. A wide variety of devices can be used to activate the doors including; wall switches, motion or proximity sensors, touchless switches, infrared beams, remote radio control or any device that switches using dry contacts. A microprocessor based control board controls the hold open time and functionality of the doors. Hold open times can be set from 1-99 seconds by means of the control board and opening times can be adjusted from 1.5 to 5 seconds by changing air regulator pressure and air flow controls.

MOUNTING
The DOOR DYNAMICS® KO-600 series operator can be easily mounted to any conventional door frame header and the face of the door. Easy to use templates and an extensive Installation and Owners Manual are included with the units allowing for simple installation.

CONTROL BOX
The control box is microprocessor based to insure maximum reliability and flexibility for the end user. The system has been designed to be easy to set up and operate. The control unit is designed to be connected to a constant power source of 110VAC 60HZ or 230VAC 50HZ, which powers the control box and a wide variety of activation devices with 24VAC power. The control box can be mounted up to 25 feet away from the operators (consult factory for greater distances). The only connection between the control box and the operators are two flexible 1/4" diameter air lines. Air supply to the control box is accomplished through a single 1/4" air line, if multiple sets of operators are connected to a single control box, a larger air supply line to the control box may be required.

SECURITY
Connecting to security devices such as electric strikes, electromagnetic locks, card readers, keyed switches, time locks and push button key pads is easily accomplished. Consult factory to determine appropriate control panel configuration.

All standard DOOR DYNAMICS® control boxes are Underwriters Laboratories Certified for safety and reliability. 
AIR FORCE® and DOOR DYNAMICS® Automatic Door Openers are not intended for use on ADA, residential, nursing home, storefront or similar light duty applications
---
United States Postal Service Holiday Hippo TV Commercial
Watch our Award Winning DOOR DYNAMICS® Kwik-Op® KO-600D come to the rescue when the USPS workers need to get Santa's presents delivered.
---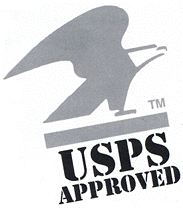 Ideal Applications Include:
Clean Environment Doors
Explosion Proof Environments
Pharmaceutical Facilities
Food Processing & Storage
Hospital & Medical
Traffic And Impact Style Doors
Other Applications Include:
Oil Refineries & Gas Utility Plants
Water Treatment & Coal Preparation
Commercial Bakeries & Flour And Feed Mills
Aluminum, Sulfur, Magnesium, Starch, Propane Processing
---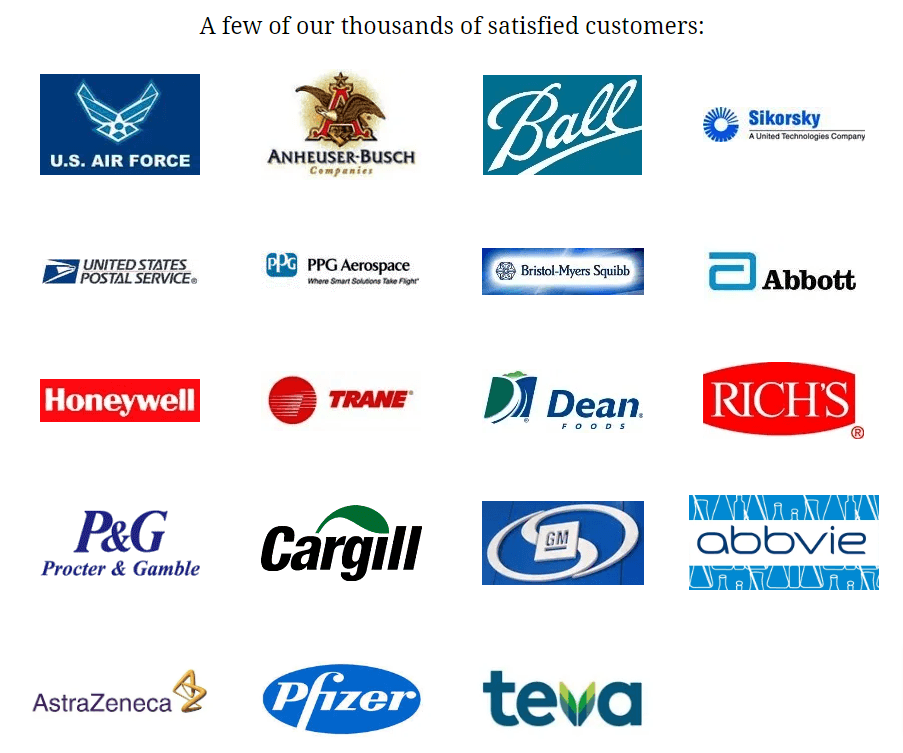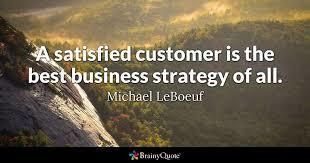 | | | | | |
| --- | --- | --- | --- | --- |
| "Since the AIR FORCE openers were installed at our customers plant in 2003 they have had zero breakdowns or service issues!" -- Louie | "We installed the DOOR DYNAMICS openers back in 1982 and they still run perfect!" -- USPS Employee | "These units replaced others that couldn't handle the traffic on this airlock. AIR FORCE never breaks down!" -- Robert | "The new door opener operates great...everyone is happy!" -- Russ | "The existing LCN 4820 opener breaks down frequently. This is in a Class 1 Div 2 explosion proof area where reliability is critical! Use PO#2130667 to enter the order for your AIR FORCE opener." -- Ed |
| "The AIR FORCE Operator we installed on Saturday is AWESOME! ....it works Fantastic! Outstanding!" -- Leif | "I really do appreciate all that you brought to the table on this purchase, your knowledge and solutions have made this project possible." -- Carye | "The door openers are installed, passed city inspection, and are fully functional. All the operators love them! Thank you for all your assistance from scoping through commissioning." -- Michael | "You designed them too well as they last forever. Great Job!" -- John | "Your door openers are a huge hit! I was asked to put together a project for one more set." -- Jason |